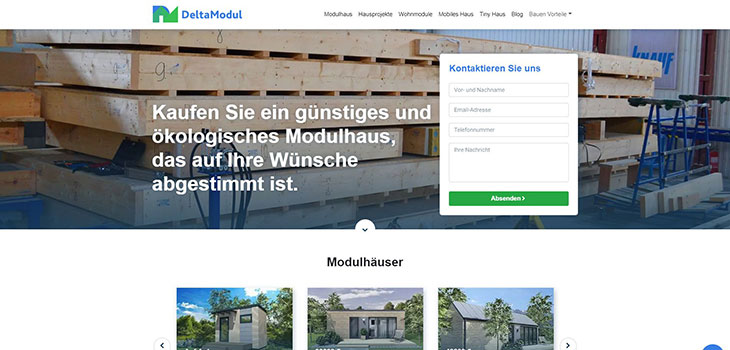 Mulipage e-commerce website for a company that specializes in modular houses construction using advanced technologies.
The main page consists of several sections and include brief information about the company, slider with the most popular projects and its characteristics, main menu, and two contact forms at the bottom and at the top of the page.
The main catalog page can be accessed from the main menu. This page contains a colage of the images of houses together with its characteristics and links to individual project pages.
Each project page contains a large slider, where users can have the opportunity to view all necessary drawings and visualizations, information about the area, sizes, and prices, depending on the selected house configuration. The website is adapted for any types of devices - pc, tablets, mobile phones, and designed to meet the customer's requirements. It has high scores on Google Page Speed and Google Lighthouse on Perfomance, Best practices, Accessibility, SEO parameters.
Frontend is assembled into optimized minified web bundles to achieve a minimum weight of the each page and make the website load faster. Visual effects are implemented using lightweight Js jQuery libraries, Owl-carousel, ImageViewer, Zoom.
The server part is developed using the ASP.NET MVC platform, since it is lightweight and suitable for placement on any VPS (Virtual Dedicated Server) with the installed Windows Server.
Features
---
Real estate website
ASP.NETMVC platform
Zoom Sliders
Responsive design
SSL certificate
High score test pass
Cross-platform hosting
SEO
Blog support
Visit deltamodul.de
---